The Pacific Islands Climate Forum, presented by the Pacific Islands Regional Climate Assessment (PIRCA), will be held on Monday, December 10, 2012, 9 am – 12 pm, at the Hawai'i Imin Conference Center on the University of Hawai'i at Manoa campus.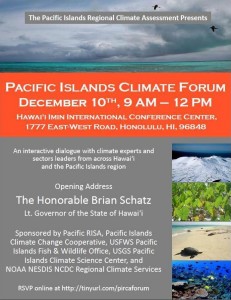 The Forum will consist of an interactive dialogue with climate experts and sectors leaders from across Hawai'i and the Pacific Islands region, and will feature an opening address by the Honorable Brian Schatz, Lt. Governor of the State of Hawai'i.
The event is sponsored by Pacific RISA, Pacific Islands Climate Change Cooperative, USFWS Pacific Islands Fish & Wildlife Office, USGS Pacific Islands Climate Science Center, and NOAA NESDIS NCDC Regional Climate Services.

To see the official announcement, click the image to the right. Please RSVP online at http://tinyurl.com/pircaforum