Court rules on Maui stream flows
In August 2012, the Hawaiʻi Supreme Court ruled to vacate a 2010 decision made by the state Commission on Water Resource Management that impacts stream flows in Nā Wai ʻEhā, or the four great waters of Maui.
Two Maui community groups and the state Office of Hawaiian Affairs appealed the June 2010 water commission decision that amended instream flow standards for the Waiheʻe River and the Waiehu, ʻĪao, and Waikapū streams on Maui.  Currently, much of the water that once flowed in Nā Wai ʻEhā is being diverted for commercial use.  Commissioner Lawrence Miike dissented the 2010 decision, and had recommended restoring around half of the approximately 70 million gallons a day (mgd) diverted.  The commission decision had restored only 12.5 mgd, setting a standard that left two of the streams completely dry.

The state supreme court justices concluded that the water commission had failed to properly consider traditional and customary Native Hawaiian practices and the public's rights to flowing streams.  Further, the court ruled that the commission needed to more thoroughly investigate and consider possible alternative water sources, such as non-potable wells and recycled wastewater. The court remanded the case back to the commission for a new decision that is consistent with the court's ruling.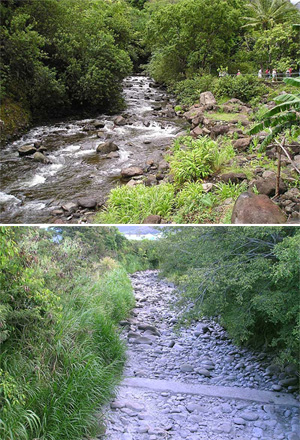 "When I look at ʻĪao and Waikapū Streams, they're bone-dry, nothing but skeletal remains," Rose Marie Hoʻoululāhui Lindsey Duey of Hui o Nā Wai ʻEhā told Earth Justice. "The supreme court's decision restores my hope that the law stands for something, and that each of Nā Wai ʻEhā's four streams will flow like justice from mauka (mountain) to makai (ocean)."
Hawaiian farmers in Nā Wai ʻEhā have long sought to end diversions and restore stream water, which supports traditional taro farming, native freshwater species, and near-shore fisheries, among other traditional practices and resources.  This conflict over diversion of the Nā Wai ʻEhā  began decades ago, and the ruling is considered a major victory for taro-farming communities on Maui.  Like the landmark Waiāhole decision in 2000, the court's August 2012 ruling affirms the commission's duty to enforce legal mandates of the public trust and has significant implications for future water commission decisions.
Photos: The ʻĪao stream flowing above diversion point (top) and the dry stream bed below the diversions. Source: Earthjustice 2012