Upcoming forum on water resources and climate change in Hawai'i
Hawaiian Islands Science (HI Sci) will host a forum titled "Water Resources and Climate Change in Hawai'i" at 5:30 PM this Thursday, March 21, 2013 at the University of Hawai'i at Mānoa Kamakakūokalani Center for Hawaiian Studies, 2645 Dole Street, Room 101.
Here is a description of the event from HI Sci's Facebook Page: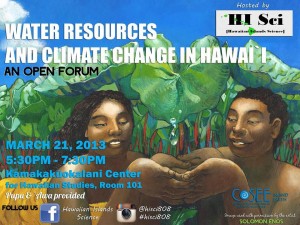 "Together, we ask what climate change might mean for our islands' water resources and communities. Invited speakers include educator Kahale Saito, mahi'ai kalo (taro farmer) Charles Reppun, Kamehameha Schools land manager Kaeo Duarte, and UH researcher Tom Giambelluca. We have also invited representatives from UH's Ka Huli Ao program, Honolulu Board of Water Supply, and the State Water Commission to share briefly on their areas of expertise. Following the speaker presentations, we will hold an open fishbowl discussion where Cafe participants are invited to ask questions, share perspectives, and engage in conversation with the speakers and each other. We welcome your families, friends, and colleagues to join us on the 21st! For updates, follow our Facebook event."

Refreshments, including 'awa, will be served during the event.  Street parking is available on Dole St. and at the Hawaiian Studies parking structure, at $6.00 per vehicle.
The event's organizers ask that participants familiarize themselves with the "fishbowl" discussion methods beforehand. (A quick tutorial is available at http://www.kstoolkit.org/Fish+Bowl.) They also suggest reading up on climate change on our PIRCA page.
Schedule for Water Resources and Climate Change in Hawai'i Forum:
5:00 PM- 5:30 PM:  Pupu and 'awa open
5:30 PM:  Opening Pule
6:20 PM:  Presentations wrap up
6:20-6:30 PM:  Break
6:30 PM:  Open Forum/ Fishbowl begins
7:20 PM:  Open Forum/ Fishbowl Closed
7:30 PM:  Closing Pule
7:30 PM- 7:45PM:  Last 'apu**
8:00 PM:  Pau
Hawaiian Islands Science (HI Sci) is a University of Hawai'i at Mānoa Native Hawaiian graduate student-driven initiative. They raise awareness and conversation between Native Hawaiians, the UHM student body, members of the Hawai'i  science community, and other communities of the Hawaiian Islands.