New Hawai'i and Pacific Islands Climate Impacts and Outlook quarterly briefing sheet
The Pacific ENSO Applications Climate (PEAC) Center and the Pacific Climate Information System (PaCIS) have just launched a new resource for decision makers and the public. "Climate Impacts and Outlook for Hawai'i  and the U.S. Pacific Islands Region" is a two-page informational briefing sheet summarizing the major impacts of climate in the region during the past three months and providing an outlook of climate conditions in the next quarter. The two-page summary will be published every three months, coinciding with the release of the PEAC Center's quarterly Pacific ENSO Update newsletter. The first "Climate Impacts and Outlook for Hawai'i and the U.S. Pacific Islands Region" briefing sheet is now available on PEAC's website at http://www.prh.noaa.gov/peac/impacts.php.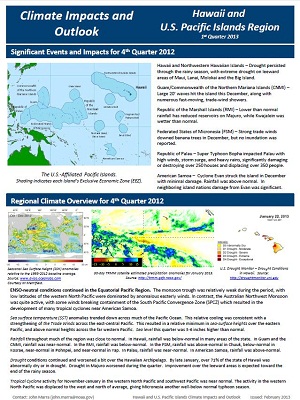 Professionals and interested members of the public can quickly obtain information on climate impacts and significant events that occurred over the past three months at various locations across the Pacific, via a concise summary for each island group.  For example, the 1st Quarter 2013 briefing sheet reports that the islands of Hawai'i experienced persistent drought throughout the rainy season, September through December 2012, while strong winds downed banana trees in the Federated States of Micronesia and Super Typhoon Bopha struck the Republic of Palau.
In addition to summarizing impacts, the briefing sheet also reports on various components of regional climate for the previous quarter, including, for example, the ENSO cycle, sea surface temperature, rainfall, drought, and coral bleaching. Finally, an outlook for ENSO, climate, and climate-related impacts, found on the second page, tells readers what to expect in the next three months.
For more information about seasonal forecasts and to sign up to receive the Pacific ENSO Update newsletter and the briefing sheets, please visit the PEAC Center's website, or email peac@noaa.gov.
The regional fact sheet is collaboratively prepared by the following regional partners:
Pacific Climate Information System (PaCIS)
Pacific ENSO Applications Climate (PEAC) Center
NOAA NESDIS National Climatic Data Center
http://www.ncdc.noaa.gov/sotc/
NOAA NWS Weather Forecast Office Honolulu
http://www.prh.noaa.gov/pr/hnl/
NOAA NWS Weather Forecast Office Guam
http://www.prh.noaa.gov/pr/guam/
NOAA NMFS Pacific Island Fisheries Science Center
NOAA OceanWatch – Central Pacific
http://oceanwatch.pifsc.noaa.gov/
NOAA Coral Reef Watch
http://coralreefwatch.noaa.gov/
USGS Pacific Islands Water Science Center
University of Hawaii – Joint Institute of Marine and Atmospheric Research
http://www.soest.hawaii.edu/jimar/
University of Guam – Water and Environmental Research Institute