Waves of Change: climate change talk story series opens
The University of Hawai'i Center for Pacific Islands Studies will host a series of seminars and films to prompt discussion about climate change in Hawai'i and other Pacific Islands, also the topic of their upcoming April 2013 conference, "Waves of Change:  Climate Change in the Pacific Islands and Implications for Hawai'i."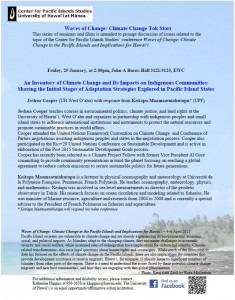 The Waves of Change: Climate Change Tok Stori series opens today with a seminar featuring a lecture from Joshua Cooper, who teaches courses in environmental politics, climate justice, and land rights at the University of Hawaiʻi, West Oʻahu, and a response from Keitapu Maamaatuiahutapu, Lecturer in physical oceanography and meteorology at Université de la Polynésie Française, Punuaauia, French Polynesia.

Cooper organizes in partnership with indigenous peoples and small island states to influence international institutions to protect natural resources and promote sustainable practices in world affairs. He has attended the United Nations Framework Convention on Climate Change and Conference of Parties negotiations and assisted indigenous peoples and states in the negotiation process. Cooper also participated in the Rio+20 United Nations Conference on Sustainable Development and is active in elaboration of the Post 2015 Sustainable Development Goals process. Recently Cooper was selected as a Climate Project Fellow with former Vice President Al Gore to provide community presentations around the planet focusing on reaching a global agreement to reduce carbon emissions.
Keitapu has been involved in sea level measurements as director of the geodetic observatory in Tahiti. His research focuses on ocean circulation and modeling related to fisheries. He was Minister of Marine Resources, Agriculture and Research from 2004 to 2008 and is currently a special adviser to the President of French Polynesia on fisheries and aquaculture. * Keitapu Maamaatuihutapu will respond via video conference.
The seminar will be held today at 2:00 p.m. in John A. Burns Hall, room 3121/3125, at the East-West Center in Honolulu.
January 31 Film Screening
The next installment of the Tok Stori series is a film screening and panel discussion on Thursday, January 31 beginning at 5:00 p.m. in Crawford Hall, room 105, on the University of Hawai'i at Mānoa Campus.
Pacific Islands Studies will show two short films, Tofiga O Pili Aau (Sāmoa, 2010) and Sun Come Up (USA, 2010), followed by a panel discussion including Fata Simanu-Klutz, Rachel Miller (Pacific RISA), and Derek Mane.
A subsequent film screening of PBS Need to Know: Palau will be held on March 14, 2013 in Crawford 105.