Pacific RISA's Network Analysis at the 2013 American Psychological Association Convention
The American Psychological Association (APA) is the largest professional and scientific organization of psychologists in the United States made up of more than 134,000 members. The most recent APA Convention was held in Honolulu, Hawaii from July 31st to August 4th. Pacific RISA was represented by Dr. Kati Corlew, Research Fellow, who presented a poster on the continued network analysis research of climate change professionals in the region. For the results and maps related to this project, please click here.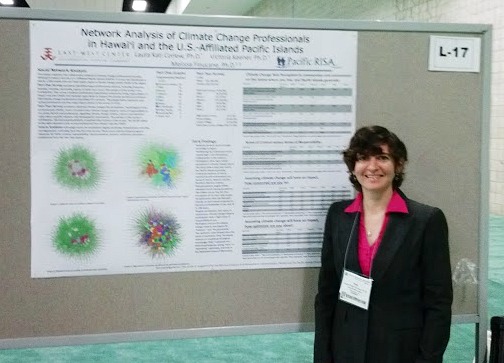 Dr. Kati Corlew, Research Fellow, at the 2013 APA Convention.
As there are usually between 11,000 – 14,000 people who attend the APA Conventions, it provided an excellent opportunity to elicit feedback from a wide variety of attendees working with the psychological dimensions of this research. "There was a lot of interest in using network analysis to study communication and collaboration at all levels", said Dr. Corlew. "Even more so in the way it was being applied to research and communication in the Pacific with regard to climate change professionals."

Dr. Corlew believes that presenting at the APA Convention has strengthened the social network analysis research because of feedback from statisticians, for example, about how to apply this research to future analyses examining why people become connected to a network. Dr. Corlew was further able to discuss with national and international colleagues how Psychology can best contribute to climate change research and communicate Pacific efforts to an audience from the mainland United States and Europe.
The APA Conventions are one of the premiere conventions in the field of Psychology and Dr. Corlew was honored to be able to share part of the research that Pacific RISA is undertaking in the human dimensions, or social sciences, of climate change.