Hawai'i conference on Pacific Islands climate change featured in ClimateWire
Last week, the University of Hawai'i Center for Pacific Island Studies (CPIS) along with various partners hosted Waves of Change:  Climate Change in the Pacific Islands and Implications for Hawai'i. The two-and-a-half-day conference, Thursday April 4 through Saturday April 6, convened leaders from across the Pacific to discuss strategies for confronting climate change impacts, already a sharp reality for vulnerable Pacific nations, including the Republic of the Marshall Islands, Tuvalu, French Polynesia, and Kiribati. The conference turned a special focus to climate-induced migration and the implications for Hawai'i and other places where climate change victims are likely to relocate.

Pacific RISA participated in the conference with great interest. Dr. Melissa Finucane was part of a panel of experts who presented scientific information about the the state of climate change impacts in the Pacific Islands on Friday, April 5, while Pacific RISA Project Specialist Richard Wallsgrove led a panel on the legal implications on Saturday, April 6.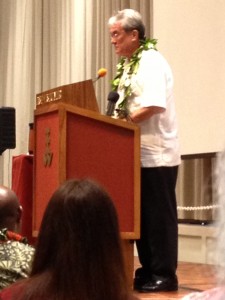 An April 8 ClimateWire article about the conference, "Island countries facing watery demise confer on survival strategies," quoted Asterio Takesy, the Federated of States Micronesia's ambassador to the United States; Tony deBrum, Minister in Assistance to the President of the Republic of the Marshall Islands; and UH law professor Maxine Burkett.  Additionally, an April 5 ClimateWire article reported on Mr. deBrum's key note address for the conference and his statements regarding the possibility of the Marshall Islands bringing the issue of climate change to the International Court of Justice.
ClimateWire quoted Mr. deBrum on April 5: "We will leave no stone unturned in our search for justice in this manner.  If that means approaching the ICJ — the International Court of Justice — that will be an option that's left on the table."
Small islands in Micronesia have already disappeared, Mr. deBrum said, adding that the Marshall Islands has received climate migrants from Tuvalu and Kiribati.  In addition to the possibility of approaching the ICJ (which he offered in response to a question), Mr. deBrum emphasized a potential partnership with the World Bank that may enable the Marshall Islands to develop ocean thermal energy technology.  He stressed that the most important function of such economic development in light of climate change is to give the people of the Marshall Islands options and confidence, rather than despair, in the face of rising sea levels that threaten their nation's existence. He has also been pleased with interactions with United States officials at recent United Nations meetings, explaining that he has not seen such concern from the US delegation in his 45 years at the UN.
When asked if the United Nations is serious about the global threat of climate change or whether island leaders are "barking up the wrong tree," Mr. deBrum responded, "The UN remains the last gathering of higher leaders who can deal with this.  What else do we have?"
Read the full April 8 article here. (A ClimateWire subscription is required to view content.)